Bangkok City Guide
Last updated Sep 6 2019
Bangkok from Wat Arun
Bangkok is a chaotic and bustling city of over 6 million people. Thailand is a relatively inexpensive country to visit with lots to offer travelers looking for culture and unique experiences.
Visas
Citizens of most countries can stay visa-free in Thailand for 30 days if arriving by air or 15 days by land. This country list includes Australia, New Zealand, Russia, Canada, US and most of western Europe. Please confirm with your local embassy or consulate. For longer visits, visas will need to obtained. http://en.wikipedia.org/wiki/Visa_policy_of_Thailand
Money
Thailand's currency is the Thai Baht and foreign currencies are generally not accepted. Thai bills are issued in 1000, 500, 100 (most common), 50 and 20 baht denominations. Get change at your hotel if your smallest bill is 1000 baht. Coins are 20 (less common), 10, 5, 1, 0.5 and 0.25 baht. 0.25 and 0.5 baht coins have become rare due to inflation.
Currency exchange kiosks can be easily found in commercial areas and typically have no service charges. It may be less costly to exchange foreign currency in Bangkok than in your home country. For excellent rates, look for the chain Superrich (1965) (locations on Silom Rd, Suvarnabhumi & Phayathai Airport Rail Link Stations and Asoke BTS) and Vasu Exchange (Nana BTS). There is also a Superrich Thailand and their rates seem good as well. You can check their rates online http://www.superrich1965.com/ http://www.vasuexchange.com/
Credit cards (Mastercard and Visa) are accepted in larger shops and restaurants but may require a minimum purchase or surcharge. Always ask beforehand. Most terminals are compatible with both magnetic swipe and EMV (chip) cards. Beware of Dynamic Currency Exchange which allow charges to appear in your local currency on purchase. Always ask to have the charge in baht unless you want to pay 1-2% more to be charged in your home currency.
Using an ATM with a foreign bank card will incur a fee of 220 THB. This charge is in addition to fees for foreign transactions your bank may charge you. Aeon Bank machines may have a lower 150 THB charge. Aeon ATM's can be found at MBK 2nd floor, Siam Paragon B1, Central World 4th floor and Terminal 21 LG foor.
Electricity
Thai outlets are usually dual plug and will accept North American style, 2 or 3 pin flat plugs or European, 2 pin round style plugs. Voltage is 220V so make sure your device is universal (110-220V) or you may need a plug in transformer.
Phone
If you have an unlocked mobile that takes a SIM card, Thailand's big wireless carriers offer inexpensive talk and data plans. SIM cards can be purchased and topped up at 7-11 or Family Mart. AIS has a traveller SIM and DTAC has a Happy Tourist SIM. Rates for the two are 299 baht for 7 days unlimited data and 100 baht talk credit. http://store.dtac.co.th/en/happytouristsim http://www.ais.co.th/roaming/visiting/sim-for-traveller-en.aspx
Toilets
Most sewage systems in Thailand (and some other countries as well) can not handle toilet paper. If there are signs and more notably trash cans beside the toilet, you need to put toilet paper in these cans. There are typically spray nozzles attached to toilets for cleaning. You may also encounter squat toilets.
Malls are the best places to find public toilets. You may run across places where there is a fee to use the toilet but the charge is usually very small (5B or less, more at tourist traps). Toilet paper may not be available or sold outside the facilities.
Climate and Weather
Peak season for travel to Thailand is the dry season from November to February. March to May is the hot season and rainy season lasts from June to October. Off season may bring heavy but typically brief thunderstorms and will be cheaper for accommodations.
| | |
| --- | --- |
| | Bangkok Weather Forecast |
Language
Thai is a difficult language to learn because it is tonal but learning hello, thank you and sorry will get you a long way. Most younger Thais can speak English and the majority of signage is in both English and Thai. You can find youtube videos for correct pronunciation.
Hello - Sawatdee Krap (male speaker), Sawatdee Ka (female speaker)
Thank You - Khob Khun Krap (male speaker), Khob Khun Ka (female speaker)
Sorry/Excuse Me - Khaw Thoht Krap (male speaker), Khaw Thoht Ka (female speaker)

Culture
Instead of shaking hands, the "wai" gesture is used. Palms are placed together in a praying formation with a short bow. Thai's are taught to respect their monarchy and there are even laws for this purpose. Feet are considered "dirty" and the head "holy" so never touch someone on the head. In temples, always remove your shoes (since most people pray on the ground) and don't point your toes toward the buddha statue when sitting. Avoid wearing tank tops or revealing clothing (except at the beach or pool). Knees and shoulders need to be covered both in temples and royal buildings. You will see spirit houses set up outside some buildings (as a place for spirits to live and away from the main building).
Holidays
The major holidays in Thailand are Songkran (Thai New Year) and Chinese New Year. On both holidays, shops may be shut down for multiple days. Songkran is considered the world's largest water fight so if you don't want to get wet, you may want to avoid it. Vendors sell waterproof cases for your mobile phone. Cities celebrate Songkran on different dates and Chinese New Year follows the lunar calendar. http://www.timeanddate.com/holidays/thailand/
Airports
Bangkok is served by two airports so make sure you head to the right one.
Suvarnabhumi Airport (BKK)
Suvarnabhumi opened in 2006 and serves as the main airport for the city. Most international flights will use this airport. The airport has a "hidden" food court on the lower level used primarily by airport employees but open to the general public.
Suvarnabhumi has excellent public transport access with the Airport Rail Link station in the basement level. Express service is no longer offered. Service operates from 06:00 to 24:00. Regular service is 45 baht to Phaya Thai Station (connection with Phaya Thai BTS, 30 min) and 35 baht to Makkasan (connect to Phetchaburi MRT, 25 min). Official site here http://www.srtet.co.th/en/
Taxis are relatively cheap if you have lots of luggage. There is an additional 50 baht surcharge to board a taxi at the airport plus the passenger needs to pay for any tolls. Sample taxi fare from BKK to Siam Center is around 400 baht (plus surcharge and tolls). http://suvarnabhumiairport.com/
Don Muang Airport (DMK)
The old airport Don Muang (DMK) now serves discount airlines including AirAsia, Nokair, Orient Thai, Scoot Air, Tigerair and Lion Air. Don Muang is a little bit more tricky to get to on public transit. From BTS Mochit, you will need to take the A1 express bus (30 baht) to the airport. Take exit 3 crossing the street and wait by the stop in front of Chatuchak Park heading north. From DMK, you can catch the A1 at entrance No. 7 of the arrivals hall in Terminal 1 from 0830 to 2330. Sample taxi fare from DMK to Siam Center is around 300 baht (plus 50 baht airport surcharge plus tolls). For cheaper food options, there is a 7-11 post-security by gate 31 and a food court on the ground floor of the adjacent Airport Office Building (take an elevator from the lobby connected to the departures level). Food stalls can also be found by the railway station and around the Amari hotel across the highway. Follow the signs to the hotel using the pedestrian overpass. http://donmueangairportthai.com/
A free shuttle bus runs between airports for those with a confirmed ticket. Free wifi is available at both airports with registration (2 hrs/day max). The airport link is being extended to Don Muang.
Getting Around
Buses
Bangkok buses are not for the timid but a cheap and effective way to get around for areas not served by the MRT or Skytrain such as Dusit Palace, Chinatown and Khao San Road. The lack of English on bus signage also makes taking buses challenging for the visitor. Buses can get stuck in traffic, drivers may drive with the doors open and stop in middle lanes because of congestion. Always be alert for for scooters darting between traffic when getting off buses. There are no fare boxes but a fare collector onboard. They will ask your destination and will give you a receipt and change if needed. Fares are usually less than 10 baht for non A/C buses and under 20 for ones with A/C. Fares may increase slightly in the evening and a few routes run 24 hours. Some red buses (no A/C) have no ticket collector onboard and are free. To plan your trip by bus, use google maps to locate bus stops and search the routes here http://www.transitbangkok.com/ A smartphone with GPS will also help to not get lost.
BTS Skytrain
This overhead light rail system runs two lines through downtown Bangkok above the clogged streets. Fares range between 16 and 44 baht depending on distance traveled. One day passes are available for 140 baht at the staffed counters. The majority of ticket machines accept coins only though there may be newer machines that takes bills (though change will be in coins). The staffed counter will provide change (but they don't sell single-trip tickets). Your ticket needs to be tapped on the sensor at the top of the gate. When exiting, insert the ticket into the slot where it is retained. If you have a daypass, tap again to exit. Trains run from 5am to midnight. As an older system, there aren't many escalators so be prepared to do a lot of stair climbing. Some stations do have elevators but they aren't easy to find. Stations also double as pedestrian overpasses. http://www.bts.co.th/
MRT
The newer MRT running underground is currently expanding with new stations being built in Chinatown and beyond scheduled to open in 2019. Fares are same as the BTS. MRT ticket machines issue round plastic tokens instead of tickets and all accept bills. Tap the token on the sensor at the top of the gate to enter. To exit, return the token into the slot. There are also more escalators on this network. Staffed counters will also sell tokens directly so tell the attendant your destination. Daypasses are no longer available for the MRT. http://www.bangkokmetro.co.th/
Rabbit Stored Value Card
This contactless card is valid only on the BTS and some stores. With a 150 baht issuing fee plus 50 baht deposit, the only advantage for tourists is to bypass ticket lineups during rush hour for individual tickets. You can add either trips or value to the card. http://www.rabbitcard.com
Taxis
Metered taxis are relatively cheap in Bangkok though there is a lot of potential to be scammed. In general it is better to flag down a moving taxi than one waiting for passengers. Always make sure the driver uses the meter. There are a few websites and apps to calculate taxi fares so it is wise to find out an approximate fare first. The downside for taxis is they can't escape the choking Bangkok traffic so if your route is along a BTS or MRT line, it will probably be quicker to use that option instead.
Grab
Uber bought a stake in Grab so this app is the go to for ride hailing. Fares can be paid in cash or credit card.
Tuk-tuks
Competing with taxis, tuk tuks are a little more nimble in traffic but fares need to be negotiated before hand. It is both cheaper and more comfortable sitting in an air conditioned taxi than an open-air tuk-tuk. Tuk-tuk drivers may also want to take you to shops where they get commission or may be part of the jewellery scam.
Canal Boats
Canal boats run east-west just north of Sukhumvit Rd and are part of the transport network. You need to be steady on your feet to board since there is only a rope attached to the side of the boat to hang onto. For the tourist, the canal boats can get you to Pratunam, Jim Thompson's House and Golden Mount. Jump on one going your direction, tell the ticket collector your destination, and pay your fare (10 -20 baht). Hold onto your ticket since you may have to transfer boats. Stops are clearly marked in English. http://khlongsaensaep.com/
Chao Phraya Boats
A good way to get to the Grand Palace and take a boat cruise along the Chao Phraya River. The main boarding point is by BTS Saphan Taksin. There are several routes including a slightly more expensive tourist one that stops at the Grand Palace. There is a separate stop for Wat Pho. Tickets can be purchased onboard but a booth at Saphin Taksin pier also sells tickets for the tourist route. http://www.chaophrayaexpressboat.com
Motorcyle Taxis
Primarily used by locals to complete a trip with fixed rates usually posted by the taxi stands (10-30 baht depending on distance). Not really recommended for tourists for obvious reasons.
Restaurants
Like any major city, Bangkok has an amazing array of restaurants but is one of the few major Asian cities that still allow street food vendors to operate almost anywhere with little or no regulation. Street food is generally safe but always look for a busy stall with high turnover and freshly prepared food. Chains of popular restaurants in other Asian cities often open branches in Bangkok. Though taxes may be included in some menu prices, 7% VAT and 10% service charge may be added to your bill.
Street food can be found almost everywhere and always by markets. Popular dishes include Pad Thai, fried chicken, skewered and grilled meat and seafood, roti/pancake, fruit smoothies, and papaya salad. For those a bit queasy about eating food prepared on the street, food courts offer a better alternative. Most food courts operate with a central cashier which sell a prepaid card or issue coupons which are accepted at the various stalls. There is usually a single stall for drinks. Remember to cash out any remaining credit which may expire the end of the same day.
Boat noodle alley can be found in the northeast corner of Victory Monument and features a concentration of boat noodle restaurants. Boat noodles were traditionally served from canal boats but have now moved indoors. Bowls are inexpensive (around 10 baht each) so order a few and stack them up.
Arguably, Bangkok's best Pad Thai can be found at Thip Samai near Wat Saket. Nearby is Raan Jay Fai restaurant.
If you are in the Pratunam area, check out Go Ang for Hainanese chicken rice. It is located opposite Palladium World Mall at the intersection of Phetchaburi Rd and Soi 30. There is a copycat restaurant nearby so look for the pink shirted servers.
Water
Hotels generally provide free bottles of water since tap water may be questionable. Bottled water is cheap and readily available in supermarkets and 7-11 (6 to 10 baht for a 500ml bottle). 7-11's are great in Thailand. You can usually find several close together on the same street. Not only can you get cheap bottled water and an air-conditioned break, snacks are also cheap and a few offer slurpees. You will find prices comparable to those in supermarkets.
Alcohol
Alcohol sales are restricted to the hours 1100 to 1400 and 1700 to 2200 at supermarkets and stores. Their is no restriction at bars and restaurants. Alcohol sales are also banned on Buddhist holidays and election days.
Shopping
Bangkok is a shopper's delight with modern malls competing with traditional markets.
Malls
The Siam Square area features a high concentration of modern malls with air-conditioning to escape the heat.
MBK - Located beside BTS National Stadium, this mall is almost like an indoor market with lots of small stalls inside along with regular stores. It also has two food courts of the 5th and 6th floor. The mall hosts free muay thai boxing events outside. There is a supermarket on the ground floor level.
Siam Paragon - A large mall with luxury movie theatres on the top floor, a giant multi-level department store, luxury car dealers, a nice food court and restaurants (BG level) and Ocean World in the basement. BTS Siam.
Central World - The city's largest mall with a large plaza hosting events. Lots of restaurants but only a small food court attached to Central Food Hall. There are a lot of market and food stalls outside. Central World is a short walk from BTS Chit Lom accessible from the overhead walkways.
Terminal 21 - A newer mall at the busy interchange of Asoke BTS and Sukhumvit MRT stations. With an airport and different city on each level theme, the mall is very unique. The public toilets on each level match each floor's theme and are an attraction themselves. There is a supermarket on the ground floor and probably the best food court in Bangkok on the fifth floor, Pier 21. Main dishes are around 30 baht each on par with street food pricing and some dishes are cooked fresh when you order. It can be difficult to find a table since it is popular with locals. Be sure to try the mango and sticky rice for dessert.
Amarin Plaza - A standard mall kitty corner to Central World but has a food court on the 4th floor popular with locals.
Em District - A luxury mall complex by Phrom Phong BTS Station. EmQuartier, opened in Mar 2015, is connected to the original Emporium Mall and features a waterfall. There is a supermarket and the Helix Quarter restaurant zone spiralling at the top of one of the buildings.
Iconsiam - Bangkok's newest luxury mall opened late 2018 featuring an indoor floating market. You can take a free ferry from Saphan Taksin or free shuttle from BTS Krung Thon Buri
The Pratunam area (just north of Central World) is fashion central with Pratunam Market, Platinum Fashion Mall (food court on the 6th floor), and Palladium Mall all offering wholesale and retail fashions. There are also markets on the street outside these malls. Just west of Platinum Fashion Mall is Pantip Plaza, a mall dedicated to electronics and computers.
Markets
Chatuchak Weekend Market - The city's most famous and largest market and open primarily on the weekends. Maps won't really help though the market is divided into sections. There is an indoor mall on the north side. Be sure to try some yummy coconut ice cream served in the shell (few carts by the cooked food section). BTS Mo Chit or MTR Kamphaeng Phet.
Patong Night Market - Taking over the city's famous red light district and spilling out along Silom Road, you may not even notice this is a red light district unless you walk by the gogo bars along the buildings. Avoid the sex shows offered since these are mainly scams. BTS Sala Daeng or MTR Silom
Nana and Sukhumvkit Night Market - Stalls set up along Sukhumvit Road between BTS Ploen Chit and BTS Asoke primarily on the north side of the street and concentrated around BTS Nana. On Monday nights, the city does street cleaning so only stalls not on public streets may be open.
Asiatique - A modern night market with a riverfront theme and ferris wheel. It can be reached by a free boat service from Central Pier (BTS Saphan Taksin) starting around 5pm. Don't be discouraged by long lines since the boats can accommodate standees. Despite appearances, you can find good deals in this market though restaurants tend to be more pricey.
Khao San Road Night Market - Though this area is backpacker central, the street is closed to traffic in the evening and becomes a loud night market. Explore the area including Rambuttri (parallel street to the north) which has more outdoor restaurants. Cross the main road along Rambuttri street heading west. The street horseshoes around a wat and you can find more markets, guesthouses and eating options. Buses in the area can be found on Ratchadamnoen Klang Road (one block south of Khao San) heading towards Democracy Monument. There is also an express boat pier here, Phra Athit N13 (blue tourist, orange, or no flag).
Rot Fai (Train) Night Market - A large night market behind Seacon Square Mall held Thurs - Sun from 5pm to midnight. You need to enter from the main street south of the mall. To get there, get to Hua Mak station on the Airport Link line and take bus 145 or 207. A smaller but more accessible second location, the Ratchada Train Market opened behind Esplanade Shopping Mall beside Thailand Cultural Center MRT.
Talad Neon - a small night market open every evening in the Pratnum area.
Khlong Toei (Khlong Toei MRT) and Or Tor Kor (Kamphaeng Phet MRT, exit 3, beside Chatuchak Weekend Market) are food markets. Pak Klong is Bangkok's main wholesale market and has a flower market (Pak Klong Talad). Next door is Saphan Phut Night Market. The area is south of Wat Po and across the canal. There is access from Saphan Phut/Memorial Bridge Pier (Chao Phraya Express Boat, orange and no flag routes only).
Chinatown
Bangkok has a large, chaotic and crowded Chinatown just west of Hua Lamphong train station. Centered along busy Yaowarat Rd, narrow side streets are filled with vendors though you'll need to dodge the scooters trying to get through. The MRT blue line has extended west from Hua Lumphong with five new stations in the area. On the eastern edge of Chinatown is Wat Traimit with a 5.5 ton golden buddha.
Tours
Some day trips (floating market, Tiger Temple, Bridge on River Kwai) may require a tour or private driver to go visit. Tour operators mainly operate "white label" using tour offices, hotels, and online websites to resell. Depending on where you purchase your tour, you could pay quite a difference in price for the exact same tour.
Day Trips
Floating Market - There are several floating markets but the most largest and most touristy is Damnoen Saduak. It is located approx 100km southwest of Bangkok and featured in the James Bond film, The Man With the Golden Gun. Less touristy options include Amphawa and Taling Chan markets.
Bridge on River Kwai - Though not the original bridge built by POW and not even in the same location, this substitute bridge is still a tourist attraction.
Tiger Temple - this animal sanctuary houses tigers raised by monks. They are taken to a small valley every day to pose for pictures with tourists. You are escorted through the area and are provided a photographer to take pictures using your own camera. Official website here http://tigertemple.org
Ayyuthaya - Ayyuthaya is Thailand's ancient capital with lots of both ancient and modern temples. An easy day trip from Bangkok, you can find a separate guide here. http://citytravelwiki.com/Ayyuthaya
Siem Reap/Angkor Wat - This city of ancient temples in neighboring Cambodia is relatively close to Bangkok. See the cruiseportwiki guide on Siem Reap here. http://citytravelwiki.com/SiemReap
Sights
Grand Palace - This large complex has been the official residence of Kings of Siam and still hosts official events. Only the outer court and Wat Phrakaew housing the Emerald Buddha is open to visistors. The main entrance is on the north side. Entrance is 500 baht (Oct 2014) and your ticket is also valid for other sites including Vimanmek Mansion and Dusit Palace, both on Ratchawithi Rd (within seven days). A strict dress code applies. No shorts, leggings, skirts, tank tops, revealing or torn clothing, fisherman pants, or sandals. Wraps may be borrowed at the entrance with a deposit. Bangkok's top attraction is also tops for attracting scammers hanging out at both the main gate and side entrances that are closed to the public. Ignore anyone trying to start a conversation with you in the area or telling you the palace is closed. Also beware of taking parked taxis and tuk-tuks at the gate. From BTS Saphin Taksin, take the tourist boat to the Grand Palace pier. Official website http://www.palaces.thai.net/
Wat Pho - Home of Bangkok's famous reclining buddha but also a massage school. Entrance is across from the south end of the Grand Palace. Like all temples, shoes must be removed outside. 100 baht entrance fee. Express boat pier, Tha Tien N8 (blue tourist, orange or no flag routes).
Wat Arun / Temple of Dawn - Located across the river from Wat Pho, you can take an inexpensive ferry (3B) across the river. Entrance to the temple is 50 baht.
Dusit Palace - The grounds have a few sights included with your Grand Palace ticket including Vimanmek Teak Mansion and Ananta Samakhom Throne Hall. For the throne hall, you will need to cover up, validate your ticket and check your bags at the small building to the north first. From the Grand Palace, you can take bus 70 heading north from the east side of Sanam Luang park (directly north of the Grand Palace). From Victory Monument, you can take buses 18/28/515/539 heading west (from southwest corner of the monument). Get off at the first stop after passing the zoo.
Snake Farm (Queen Saovabha Memorial Institute) - Located on the grounds of the Red Cross, this farm is used to collect venom. It has displays and daily shows for visitors. 200 baht entry fee. Venom Extraction Show 11am, Snake Show with picture at the end 2:30pm (you can exit and come back with your ticket M-F). Snake show 11am only on weekends and holidays (closed early). MTR Sam Yan. http://www.saovabha.com/en/snakefarm_service.asp
Wat Saket/Golden Mount - This temple sits on a hill overlooking Bangkok. Free admission. Polite dress and no shoes inside is required for any temple visit including no shorts, skirts or tank tops. Take the canal boat (Khlong Saen Saep) to last stop heading west from pier just north of MBK.
Jim Thompson House - Traditional Thai teak houses converted into a museum in the middle of downtown Bangkok. 100 baht admission includes compulsory guided tour. Short walk north from BTS National Stadium. http://www.jimthompsonhouse.com/
Hotels
All sorts of accommodation can be found in Bangkok including BnB's, guesthouseses, hostels and luxury hotels. You can find decent two or three star hotels for 800-1000 baht per night depending on the season. Staying near a skytrain or MTR station will make travel much easier though you may pay a bit more for the convenience. When comparing prices online, some hotels may not include VAT in the pricing until you are at the final checkout stages. Search hotels in Bangkok here

Maps (right-click to save)
Bangkok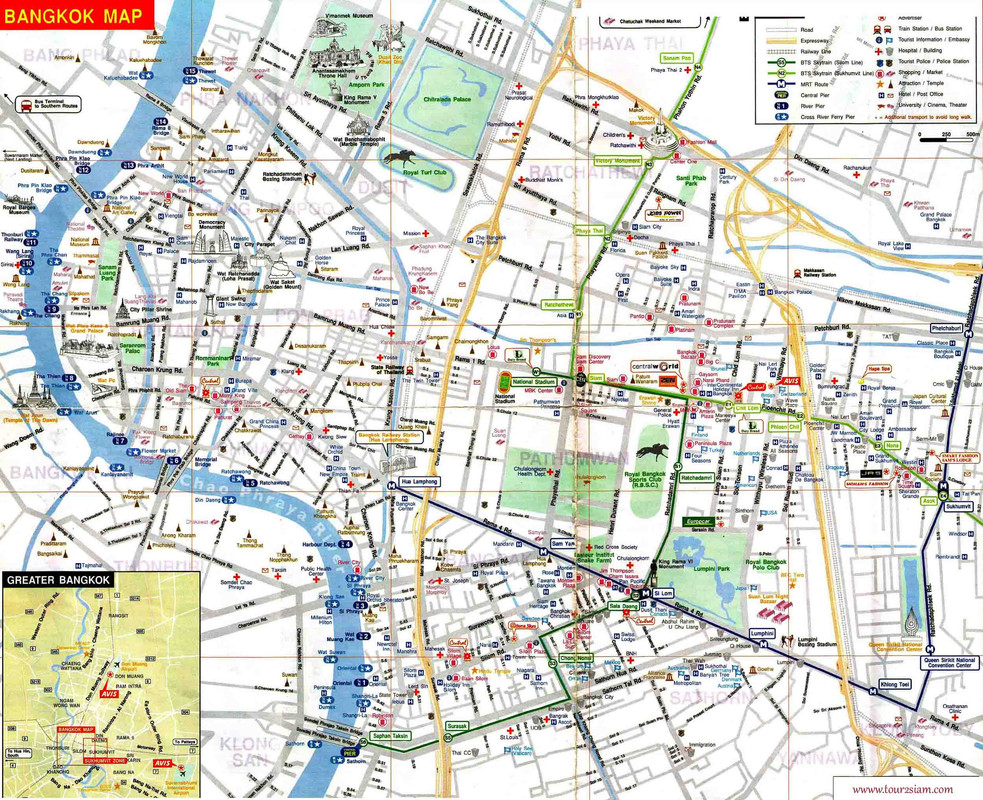 Bangkok Metro and BTS Map
Suggested City Guides
Comments