Berlin City Guide - Under Construction
Last updated Nov 13 2014
Bundestag

Berlin is the capital of Germany. A vibrant city full of history.
Visas
Money
Germany's currency is the Euro
Electricity
Italy's outlets are European, 2 pin round and 220 volts.
Phone
Toilets
Climate and Weather
climate image here
Berlin Weather Forecast
Language
Culture
Holidays
Airports
Getting Around
In Berlin, you can get around very easy on the S-Bahn (commuter rail) or U-Bahn (city subway) networks. You can buy a zone AB Tageskarte (day pass) valid on both networks for €6.70 or pay €2.60 for a single trip. There are discount tickets for short hops (up to three stops), children, dogs and day tickets for groups (up to five people travelling together). Try to find a newer touchscreen ticket machine since they will have an English menu option. A ticket covering zone C is only needed for destinations further out such as Potsdam, Sachsenhausen, or the airport. http://www.bvg.de/
Hop on, hop off bus tours are also available including one operated by City Sightseeing.
Buses
Metro
Taxis
Restaurants
Galeria Kaufhof, a large department store, can be found in Alexander Platz. KaDeWe department store is located on the western end of the city in Ku'damm, a famous shopping street akin to New York's Fifth Avenue. There is an impressive food hall on the sixth floor of KaDeWe.
Turkish style kebabs are a cheap and popular street food.
Germans love their sausages. Try a currywurst which is a sliced pork sausage smothered in ketchup and topped with curry powder or a rostbratwurst typically served with spicy German mustard in an undersized bun. For the more adventurous, there is weissewurst which literal means white sausage. Though you will see wurst stands in Alexander Platz, Ku'damm and at railway stations, the recommended places in Berlin are
Curry 36, Mehringdamm 36, U-Bahn Mehringdamm (there is a popular kebab stand, Mustafas Gemuse Kebab, next door)
Konnopke's Imbiss, Schnhauseralle 44a, U-Bahn Eberswaldestrasse (under the U-Bahn tracks)
In JFK's immortal phrase "Ich Bin Ein Berliner", Berliner translates locally to a jelly donut sold at any bakery. You should be able to find one inside large train stations.
For a unique flavored beer, try a Berliner Weisse. If you can't make it to Munich to experience a Bavarian beer hall, head to Hofbrau just north of Alexanderplatz which was opened in 2011.
Shopping
Day Trips
Sights
If you take the On Your Own Tour, the train disembarks at Ostbahnhof (East Train Station) and a bus is provided to Gendarmenmarkt in front of the Hilton. If you decide to stay at Ostbahnhof, the East Side Gallery with murals painted on a long section of the Berlin wall is nearby. Confirm your meeting location and time with your tour guide before leaving. If starting at Gendarmenmarkt, take a quick peek at the twin cathedrals in the square. Head west one block over to Friedrichstrasse and then south for a couple more blocks to see Checkpoint Charlie. There is a small private museum here if you are interested in the history of the wall. Alternatively, you can hop on the U-Bahn for a couple of stops to save some walking. In the area, look for the old route of the Berlin Wall marked by bricks and plaques in the ground. Head west along Zimmerstrasse where there is a small section of the wall passing the Topography of Terrors which was the site of Gestapo headquarters (new museum opened in 2010, free entry). Your next stop is Potsdamer Platz with modern skyscrapers (one with an observation deck) and a large atrium in Sony Plaza frequently hosting movie premieres. From Potsdamer Platz, continue north until you encounter the Holocaust Memorial. Be sure to visit the accompanying underground museum (entrance on eastern side, free entry). In the residential car park directly southeast of the memorial is the site of Hitler's Bunker. There may be an informational sign here but nothing else is really visible. A block north of the Holocaust Memorial is Pariser Platz and the Brandenburg Gate. Peek into the DZ Bank building on the southern side beside the US embassy to take a look at the Frank Gehry designed fish atrium. The Adlon Hotel next door is where the rich and famous stay and also where Michael Jackson dangled his baby. Continue north one block and you will be at the impressive Reichstag. The lineup here is to head up to the observation deck and climb the glass dome (free). You will need to go through a security check and wait for the elevator going up. From the Reichstag, head back to the Brandenburg gate and walk east along Unter Den Linden passing many historic buildings and museums. Stop at Bebelplatz to see the book burning memorial symbolized by empty bookcases underneath the plaza. Continue east to visit the museums on Museum Island. The Pergamon Museum houses the Pergamon Altar and Ishtar Gate while the Nefertiti bust can be seen in the Egyptian Museum. A museum pass is available to save some money if you plan on visiting a lot of museums. Continue on to Alexanderplatz where you can head up the TV tower if it is a clear day. From Alexanderplatz, you take the U-Bahn back to the meeting point.
If you have a lot of extra time, head to the western part of Berlin to see the Ku'damm area and Kaiser Wilhelm Church.
Hotels
Search hotels in Berlin here
Maps (right-click to save)
Berlin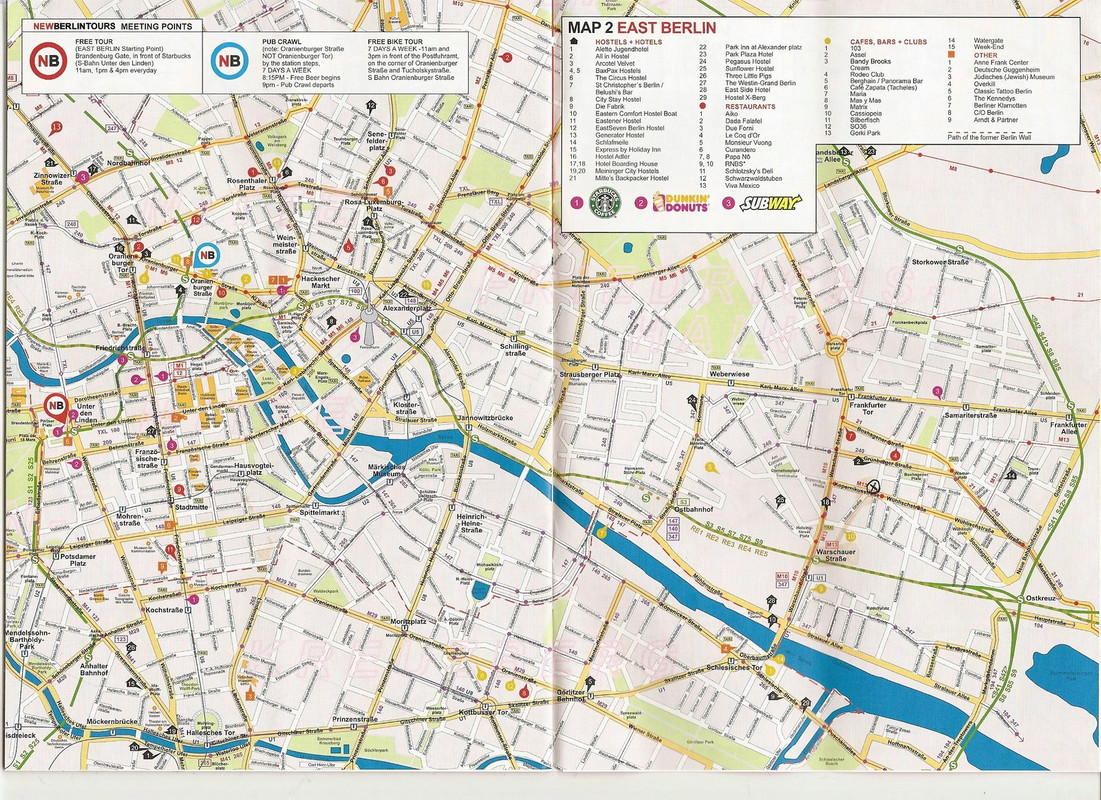 Berlin Train Map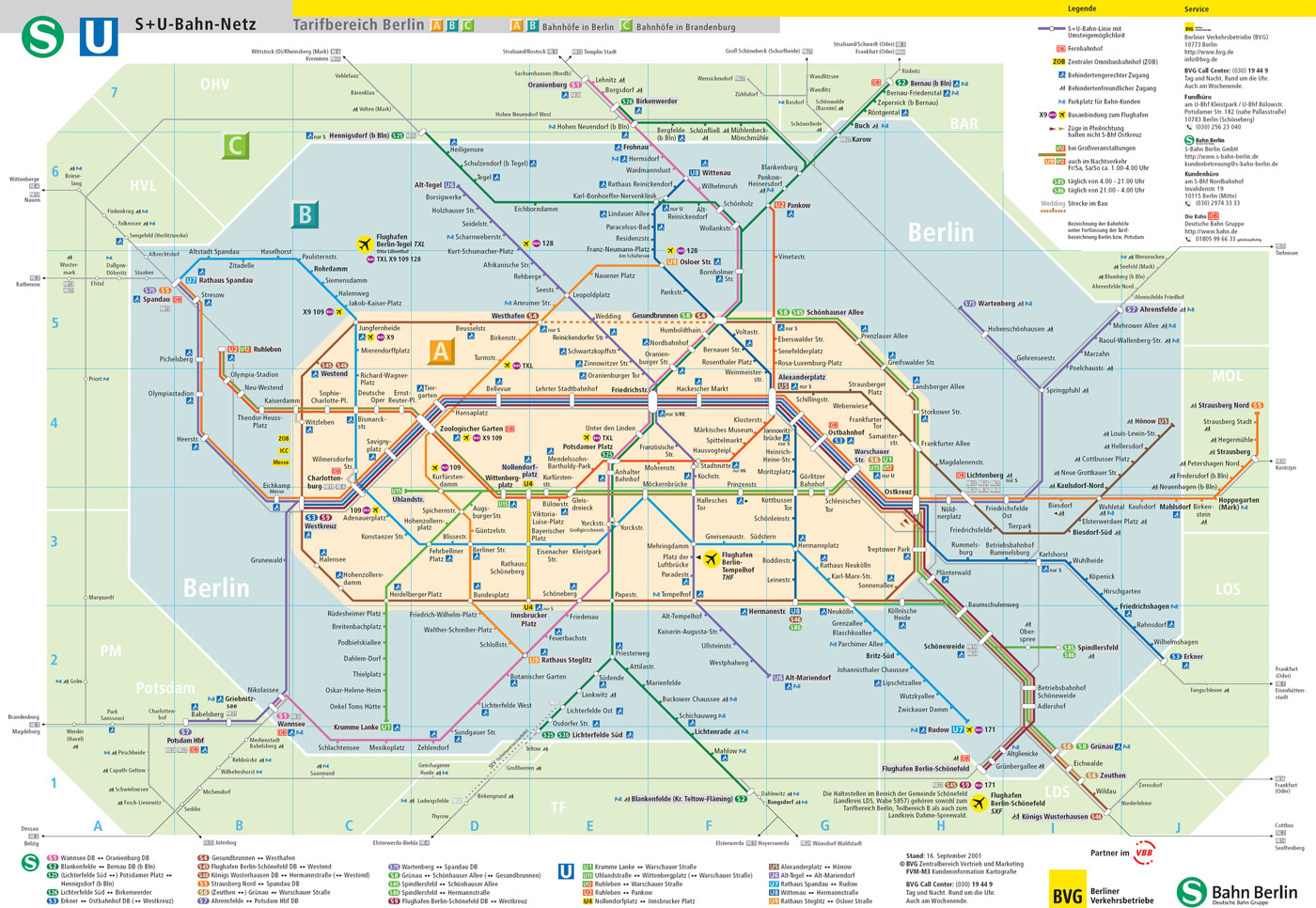 Suggested Port Guides
Comments