Copenhagen City Guide
Last updated Nov 13 2014
Nyhavn
Copenhagen is the capital of Denmark and the hometown of Hans Christian Anderson.
Visas
Money
Denmark's currency is the Krone (DKK). Euros may be accepted at tourist-friendly places.
Electricity
Denmark's outlets are European, 2 pin round and 220 volts.
Phone
Toilets
Climate and Weather
Copenhagen Weather Forecast
Language
Culture
Holidays
Airports
Getting Around
Copenhagen's transit system consists of both a S-Tog (commuter rail) and a metro network. Single trip transit tickets are 24 DKK (Aug 2014), good for 1 hour, two zones and valid for transfers between bus, S-Tog or metro. If staying for a couple days, get a ten-trip klippekort for 150 DKK or a Copenhagen Card. The klippekort is being phased out to be replaced with the electronic Rejsekort. The klippekort will be sold until Feb 9 2015 and can be used until June 30 2015. Paper tickets need to be validated at machines in the stations. If going more than a couple of stops, you will need to pay more since pricing is based on zones. You can punch the klippekort for multi zones or multiple people. http://www.moviatrafik.dk/ http://www.copenhagencard.com/
Buses
Metro
Taxis
Sample taxi fares from http://taxifarefinder.com (Aug 2014) Rates are typically higher for weekends and evenings (after 4pm). Fares include tax and tips, and you can normally pay by credit card though there may be a surcharge. Ask the driver if your magnetic stripe (non-chip) card will be accepted beforehand.
Restaurants
Shopping
Stroget is a long pedestrian street winding its way from City Hall (get a picture sitting on Hans Christian Anderson Statue) to Nyhavn. It also branches north to Norreport. Torvehallernekbh, an upscale covered market, opened in 2011 by Norreport Metro.
Visit the Carlsberg Brewery Museum for a tour and a beer (Enghave Station - walk through the large brewery complex).
Try a delicious pastry from LagKagehuset (various locations, including Stroget, west of the Tivoli entrance, and across from Christianhavn metro). Smørrebrød is a popular open-faced sandwich (eaten with a knife and fork). Recommended restaurants linked from here http://www.visitcopenhagen.com/copenhagen/gastronomy/top-10-traditional-danish-lunch
There is an Aldi discount supermarket beside Nordhavn station if you are on your way to Freeport Terminal. There is an Irma supermarket by Norreport station and another one beside the main entrance to Tivoli Garden. A block north of Central Station is Rema 1000 at Hammerichsgade 1.
Fisketorvet mall is south of the city center. Take the S-Tog to Dybbolsbro station.
Day Trips
Sights
Little Mermaid - located down the promenade from Langelinie Pier, this statue is the symbol of Copenhagen.
Nynhavn - This old port area is now filled with restaurants on the sunny south-facing side. Take a canal tour from here. There are multiple companies operating tours so shop around for the best deal. The first company you see will probably be the most expensive. To save money and enjoy the area like a local, buy beers at a store and take a seat along the canal. Located at the eastern end of Stroget.
Tivoli Garden - This small amusement park with gardens, restaurants and rides was Walt Disney's inspiration for Disneyland. Entry 99 DKK (Aug 2014). Opens at 11am. Beside Central Station with the main entrance on the north side of the park. http://www.tivoli.dk/
Vor Frelsers Kirke (Our Saviour Church) - If you don't mind stairs, you can climb up to the main spire of this church from the OUTSIDE. Tower opens 10am Mon-Sat, 10:30 Sunday, 40 DKK (Aug 2014) Metro Christianshavn http://www.vorfrelserskirke.dk/
Christiania - this hippie squatters village on a former military site is an unusual tourist attraction if you don't mind the smell of hash and marijuana. Down the road from Our Saviour Church.
Amalienborg Palace - this is one of several palaces around Copenhagen. The Marble Church is nearby. It's a short walk north along the waterfront from Nyhavn. Other palaces include Rosenborg with a large garden and Christiansborg.
Glyptoteket Art Museum - has a collection of many masterpieces. Free on Sundays (free guided tours as well) and 75 DKK/€11(Aug 2014) Tue-Sat. Hours 11am to 5pm, closed Mondays. Located beside the southeast corner of Tivoli Gardens. http://www.glyptoteket.dk/
Danish National Museum (east of City Hall) and National Gallery (north of Rosenborg Castle) - both are free and closed Mondays. http://natmus.dk/ http://www.smk.dk/en/
Round Tower - A unique tower with a spiral ramp to the top. http://www.rundetaarn.dk/en/
If you are planning to visit a lot of sights, consider buying a Copenhagen card which includes admission to many attractions and a public transport pass. The card can be purcased from the post office in Central Station or from the tourist office opposite the main entrance to Tivoli Garden. http://www.copenhagencard.com/
Hotels
Any hotel in the city center is a good choice location-wise. Being close to the metro or S-Tog stations will be convenient for using public transportation. Search hotels in Copenhagen here
Internet
Café and restaurants including McDonalds may provide free wifi for customers. The port may also offer free wifi at the cruise terminals.
Post Office
The post office inside Central Station has closed. There is a post office a couple blocks south.
Maps (right-click to save)
S-Tog Map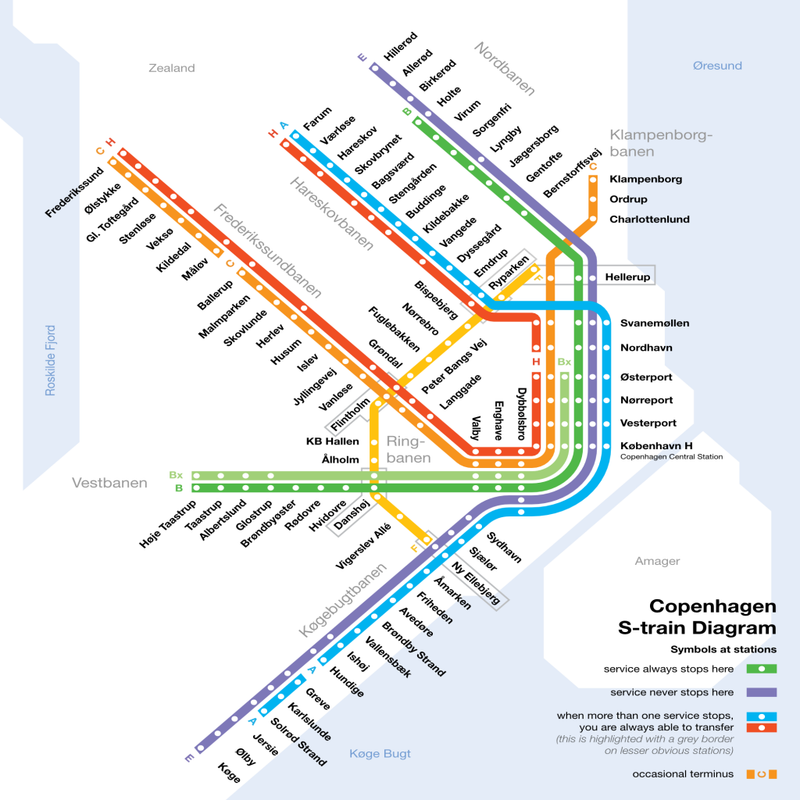 Metro Map
Suggested Port Guides
Comments