Paris City Guide
Last updated Mar 12 2015
Eiffel Tower
Paris is the capital of France and has a unique charm with wide, tree-lined boulevards, sidewalk cafes, historic buildings, and no skyscrapers in the city center.
Visas
Citizens of Canada, US, Australia, and New Zealand can stay in France up to 90 days in a 180 day period without a visa. France is part of the Schengen area where a Schengen visa is valid. http://en.wikipedia.org/wiki/Visa_policy_of_the_Schengen_Area
Money & Tippijng
France's currency is the Euro. In Europe, a small tip is usually left when dining at restaurants (5-10%) even though service is included with your bill. It is customary to tip taxi drivers around 10%
Electricity
France's outlets are European, 2 pin round and 220 volts.
Phone
For SIM card options in France, check out this link http://prepaid-data-sim-card.wikia.com/wiki/France
Toilets
As in most of Europe, public washrooms are typically pay for use. Best bets for free washrooms are restaurants, malls, and museum lobbies. You may encounter squat toilets, mainly in more rural areas.
Climate and Weather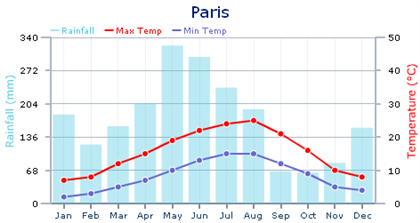 Paris Weather Forecast
Language
The French are very proud of their language and may be offended if you start speaking to them in English. Learning a few phrases in French will avoid being portrayed as an ugly tourist. Search Youtube for videos of proper pronunciation.
Bonjour - Hello
S'Il Vous Plait - Please
Parlez Vous Anglais - Do you speak English?
Excusez Moi - Excuse me
Oui/Non - Yes/No
Holidays
France's national holiday is Bastille Day on July 14. Europeans get a lot of time off and tend to travel in July and August when most of the continent is on vacation.
Airports
Paris's main international airport, Charles de Gaulle (CDG) is located approximately 25 miles northeast of Paris. There is commuter rail service on the RER B line from Châtelet les Halles with fares starting at €9.75. Journey time is 30 minutes. http://www.aeroportsdeparis.fr/
Getting Around
Metro
Paris has an excellent and expansive metro system in addition to a commuter rail network, the RER. Try to pick up a tourist map which should have the stations listed. Your best value is to buy a Zone 1-2, one day Mobilis Ticket for €7 (Mar 2015) which will give all day access to the bus, metro and RER within the city center. Credit cards are accepted at ticket machines and at the counter but they must be smart card/chip and pin cards. Ticket machines generally take coins only though a few may accept bills. Single tickets are €1.80 and a book of ten €14.10 (carnet). You can also buy tickets at tobacco shops (Tabac) displaying a RATP sign. Don't lose your ticket since you will need it to exit and you may be subject to random inspections. The trick for riding the metro is to know the line number and the last station on the line to determine which direction to go. Some lines split off near the end. http://www.ratp.fr/en/
Buses
With the expansive metro and RER rail networks, you probably won't need to take the bus. Your daily pass is valid on all public transport.
Taxis
Taxis may be difficult to find during busy periods (rush hour or raining) and have a minimum charge. Rates increase for evenings and early mornings. There are also surcharges for luggage. A white lit taxi sign indicates a taxi is free changing to orange if it's occupied.
Restaurants
Though you will find restaurants and cafes throughout the city, the Latin Quarter has a high concentration of both bars and restaurants.
Shopping
The Champs-Élysées is probably Paris's most famous street with many shops and fast food restaurants. There is a Monoprix department store with a supermarket in the basement on this street.
Galeries Lafayette is a department store with it's flagship in a grand building in central Paris with a free observation deck for a view of the Paris skyline. The building is across from the Opera House. Also in the area is the flagship store for Printemps, another fashion-centric department store chain.
Les Halles is a major underground mall built at the site of a historic central food market and now a busy transit hub. It is undergoing renovation (remaining open) and is scheduled for completion by 2016.
Sights
Eiffel Tower - One of Paris's top attractions and on every tourist's must see list. If you take the stairs to the first stage, you will encounter a shorter lineup and lower fee. Additional fees required for the second stage. The elevators are double decker so take the shorter lineup. The park at the base is a popular place to have a picnic with some wine and to admire the twinkling light of the tower in the evening.
Louvre Museum - One of the world's top museums and home to the Mona Lisa. There are multiple entrances including access from the metro.
Arc De Triomphe - Take the underground passage to get to this monument located in the middle of a large roundabout.
Sacre Coeur - This picturesque church sits on a hill overlooking the city.
Notre Dame - Paris's most famous church is large but has an unassuming interior. Head up the tower (entry fee required) for the view of both the city and close ups of the gargoyles. Entrance is on the exterior north side
Sainte Chappelle - This cathedral houses magnificent stained glass windows on the upper floor. Located within the justice complex, you will need to go through security first.
Musee D'Orsay - this old train station houses a vast collection of art.
Versailles
Disneyland Paris
If you are staying in Paris for a few days, consider buying a Museum Pass which includes entry into Versailles Palace. Note that many museums are free the first Sunday in the month.
Hotels
Search hotels in Paris here
Maps (right-click to save)
Paris Metro and RER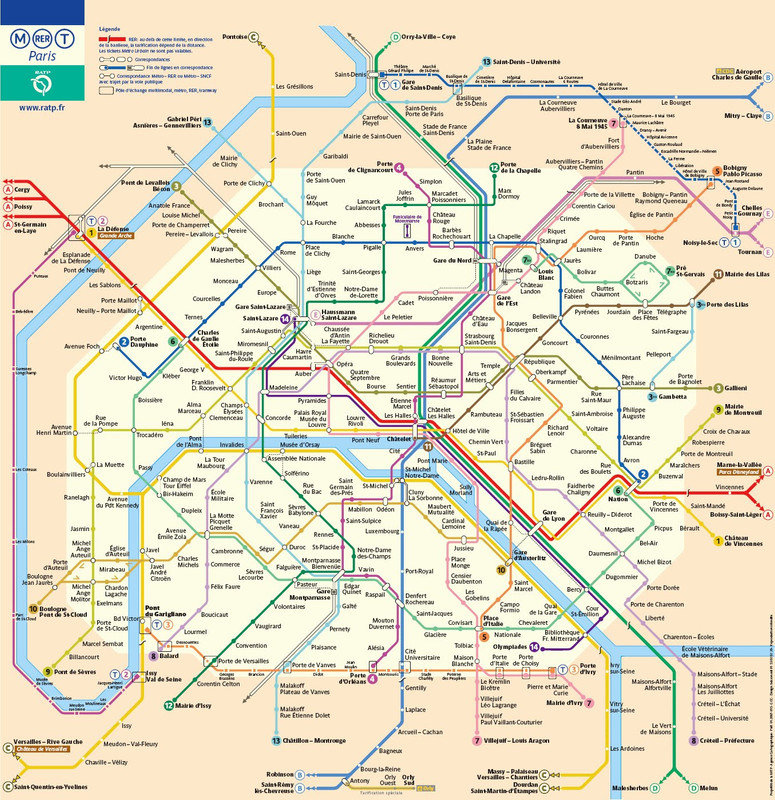 PDF version here http://parisbytrain.com/wp-content/uploads/2008/10/metro_geo.pdf
Suggested Port Guides
Comments