Pattaya City Guide
Last updated Mar 24 1019
Pattaya from Viewpoint
Pattaya is a beach resort 80 miles south of Bangkok popular with Chinese, Russian and European visitors.
For general Thailand info such as language and money, please see our Bangkok guide here http://citytravelwiki.com/Bangkok
Getting Here
Bus - Buses leave regularly from both Ekamai (east) and Mochit (north) bus terminals in Bangkok. Ekamai is the most convenient since it is directly beside the same named BTS station. Avoid the minivan drivers that try to steer you away at the entrance. Tickets are sold at booths inside and the fare is 108 baht. Buses leave approximately every 30 minutes from 0500 to 2300. The journey takes approximately two hours (depending on traffic) to the North Pattaya bus terminal (on North Pattaya Rd). Though baht buses are waiting in the terminal, it will be cheaper if you walk out to the road, cross the road and catch one heading west. You may need to transfer at the Dolphin Roundabout. See Getting Around section for more info on using baht buses.
Minivan - Avoid the minivan service since it costs more, takes longer, has stops along the way and they don't drop off in central Pattaya.
Private Tour/Vehicle - Many companies offer private transport to Pattaya though you will be paying much more than using the bus.
Pattaya to Suvarnabhumi Airport - Bus service is available between Pattaya and BKK airport. The bus terminal in Pattaya is along the Jomtien baht bus route at the intersection with Thepprasit Rd. http://www.airportpattayabus.com/
Pattaya to Don Muang Airport - Easiest way is to take the bus to/from Mochit Bus Terminal. From there you will need to take a taxi or local bus (route 139) to BTS Mochit with a transfer to the A1 airport express bus.
Getting Around
Baht Buses
Songthaews (privately owned pickup trucks with covered bench seating in the back) provide bus service in Pattaya. Most run a circular route from the dolphin roundabout, Beach Rd, South Pattaya Rd and Second Rd. Bus stops have recently been added on Beach Rd to improve traffic flow. Flag one down heading your general direction and hit the buzzer when you want to get out. Pay the driver 10 baht when you exit. In general, if you ask a driver where he is heading, it is assumed you want to charter the vehicle and may get charged a significantly higher fare. Baht buses will also run along major roads so you may need to transfer to a different bus to get to your destination. To get to Jomtien, baht buses wait at the southeast corner of Second Rd and South Pattaya Rd and leave when full.
Metered Taxis
Though metered taxis are available in Pattaya, the meter is usually covered and not used despite occasional despite government crackdowns. Drivers will want a minimum of 200 baht for short trips.
Grab
Uber bought a stake in Grab so this app is the go to for ride hailing. Fares can be paid in cash or credit card.
Restaurants
As a resort city, you will find restaurant pricing a bit higher than those in Bangkok. However, street food will still be comparably priced.
For drinks with a view, check out the Hilton at Central Festival and [email protected] in North Pattaya.
For Hard Rock Cafe fans and collectors, there is a resort just north of Central Pattaya Rd on Beach Rd.
Shopping
Markets
Pattaya Night Bazaar - Located on Second Rd just north of Central Festival. Stalls near the entrance are usually open during the day.
Thepprasit Road Weekend Night Market - A large night market operating Friday to Sunday evenings from 5pm. There is a large street food section so visit with an empty stomach. The market sets up in front of a multi-level apartment building beside an outlet mall. To get here by songthaew, board one heading to Jomtien beach. Get off at the intersection with Thepprasit Road (Foodland supermarket on left and Pan Pan Restaurant on the right) and transfer to another bus that should be waiting on Thepprasit Road. Don't get off too early since there is a smaller market just south of the main one. They should turn around at the end of the road in front of the market.
Soi Bukhao Market - A daytime market that sets up every Tuesday and Fridays on Soi Bukhao near South Pattaya Rd. There is also a smaller night market operating daily on Soi Bukhao a short walk from Central Festival Mall with good street food.
Malls
Central Festival - A large and popular mall. The lower floor has a supermarket, Central Food Hall, and a good and relatively inexpensive food court, Food Park, (with a Russian food stall). A more upscale and quieter food court, Food Loft, can be found on 5/f. Hours are 1100 to 2300 which is pretty standard for malls in Pattaya.
Royal Garden Plaza - Central Festival has sucked most of the life from Royal Garden but there are still shops inside and a Ripley's Believe It or Not. There is a pricey food court on the top floor.
Mike Shopping Mall - More of an indoor market than a mall. There is a public swimming pool on the roof.
Central Marina - Located in North Pattaya off Second Rd. This mall has lots of restaurants and a large supermarket. It was renovated and rebranded in 2017 adding a pub building, and a food court.
Terminal 21 - Opened in 2018, this airport and world city themed mall is a destination itself. It is larger than the one in Bangkok and has a super cheap food court, Pier 21. Lots of photo opportunities in the mall with statues and spotlessly clean and themed bathrooms on each level.
Supermarkets
Tesco Lotus - North Pattaya Rd, Big C - (Central Marina), Central Foodhall (Central Festival Mall), Foodland (Terminal 21)
Alcohol sales are restricted to the hours 1100 to 1400 and 1700 to 2200 at supermarkets and stores. Their is no restriction at bars and restaurants. Alcohol sales are also banned on Buddhist holidays and election days.
Sights
There are a few large tourist attractions in the area though they may be difficult to get to without a vehicle.
Walking Street - The city's main entertainment district is full of gogo bars and restaurants. Very lively in the evening with tourists, tour groups, and street performers.
Sanctuary of Truth - A newly built and still under construction temple with intricate carvings. You can get a taxi or charter a songthaew to get here or take a baht bus from the dolphin roundabout heading north along Naklua to Soi 12 and walk the remaining distance. Discounted entrance fee (450 baht) if bought online and you can pay by credit card. Walk up entrance fee is 500 baht. http://www.sanctuaryoftruth.com/
Pattaya Hill Viewpoint - Located at the south end of Pattaya with views of the harbor. To get here by baht bus, take one heading to Jomtien and get out after it turns left underneath an elevated roadway. Walk in the same direction before you turned until you get to the tourist police office. Shortcut by taking the stairs uphill through the park to a five way way intersection where there are signs to the viewpoint and Big Buddha. Free.
Big Buddha - At the opposite end of Pattaya Hill. You will pass the entrance to a wat on your left but follow the road to your right. Free.
Sriracha Tiger Zoo - http://www.tigerzoo.com/eng/
Nong Nooch Garden & Resort - The main attraction is the gardens though there is also Thai dancing and an elephant show. http://www.nongnoochtropicalgarden.com/
The Million Years Stone Park & Pattaya Crocodile Farm - Another mini theme park http://www.thaistonepark.org/
Khao Kheow Open Zoo - A drive through zoo http://kkopenzoo.com/
Ladyboy Show - Three venues provides extravagant shows: Alcazar, Tiffany's and Colosseum. There are smaller and less pricey shows if you are on a budget.
Pattaya Floating Market - A floating market in southern Pattaya.
Beaches
Pattaya Beach - Pattaya's main beach is filled with vendors and chairs for rent.
Jomtien Beach - This area is quieter than Pattaya Beach and easy to get to by baht bus.
Koh Lan Island
A short ferry ride from Pattaya is an island with nicer beaches than Pattaya. Tawaen is the largest beach on the island with a long promenade catering to tour groups. Songthaews run fixed fare routes to the various beaches from the main Na Ban pier. Head left when you exit the pier to find the parking area where fixed prices are posted. Direct ferries also run to Tawaen but at less frequency. Motorcycle taxis will also want to take you around. After a ferry capsizing in Nov 2013, there has been heightened safety measures including the increased availability of life vests.
Ko Lan Ferry Schedule
Ko Lan Songthaew Rates
Tawaen Beach, Ko Lan
Speed boat service is also available to the island.
Hotels
There are a wide range of hotels in Pattaya. The Naklua and Jomtien areas will be a bit more quiet. Search hotels in Pattaya here
Maps (right-click to save)
Pattaya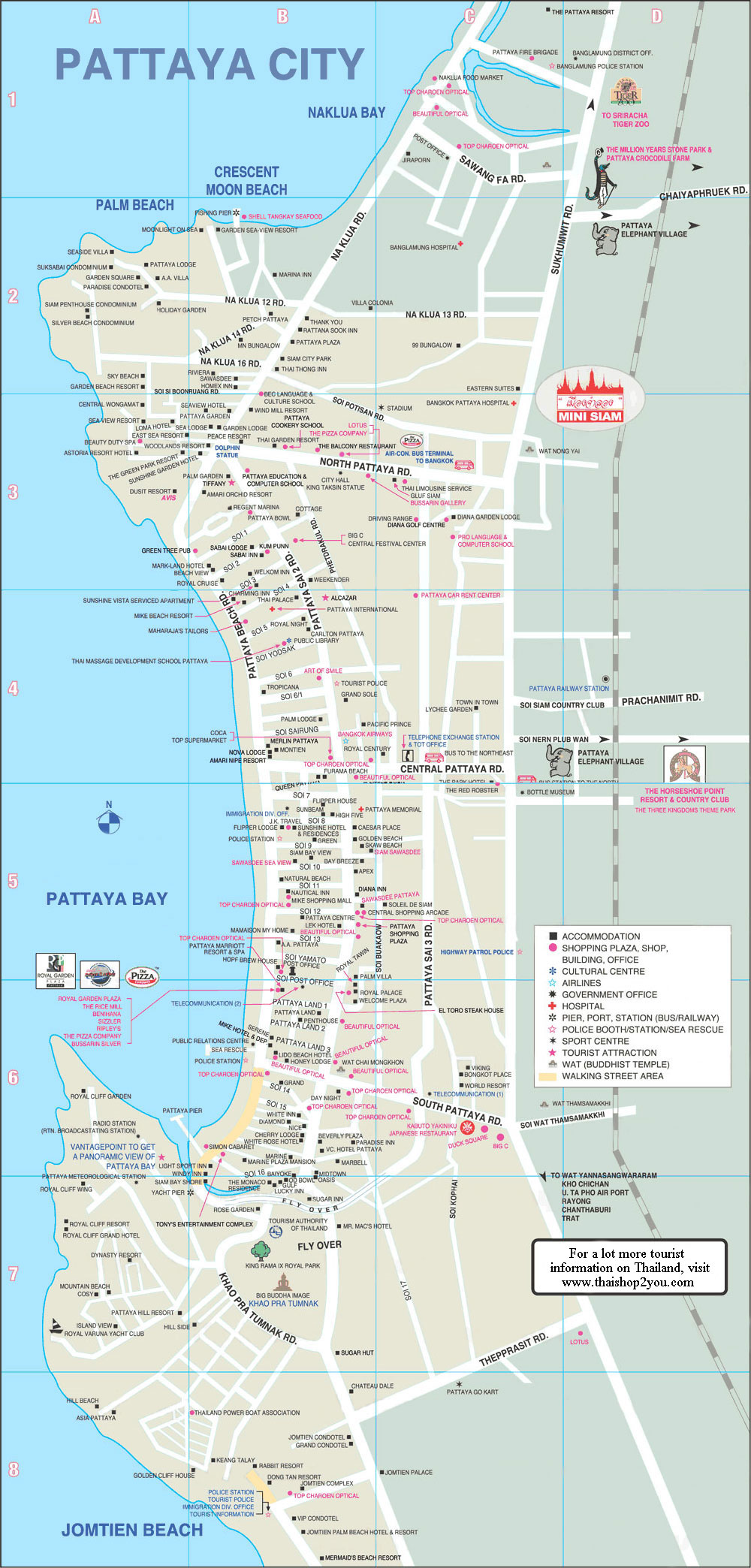 Suggested City Guides
Comments